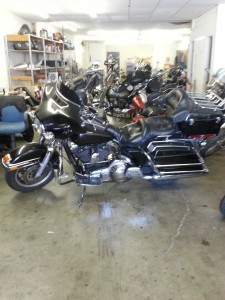 DON'T LIMIT YOUR CHOICES TO PACKAGED WINTER SPECIALS, BOTH ACCESSORIES AND MAINTENANCE ITEMS FOR YOUR MOTORCYCLE ARE ON SPECIAL THIS WINTER AT DEAN OF CYCLES.
CompanyOwnership
The Dean of Cycles is locally, and privately owned by Harold D. Barton and  operates in Lexington, Kentucky.  Harold acquired his Certificate of Graduation for Motorcycle Technology from the Motorcycle Mechanics Institute (MMI) out of Orlando, Florida.  He has also acquired the Certificate of Graduation for the Harley-Davidson, Early Model Program as well as many other certificates to support his knowledge of the motorcycle industry.  Most important, Harold D. Barton has worked for Harley-Davidson for over 20 years.
The Dean of Cycles will attract and retain many loyal customers through customer oriented environment.  Having over 20 years of experience in the motorcycle industry, the owner and service manager, Harold D. Barton will be held responsible for providing superior motorcycle service.
The Dean of Cycles will aim for an effective and efficient job performance at a lower price than of its current competitors.  The wait for parts and service will be at a minimal amount.  Consequently, offering an incredible value to customers requiring motorcycle service.